April 10, 2013 |
Brandon St.Martin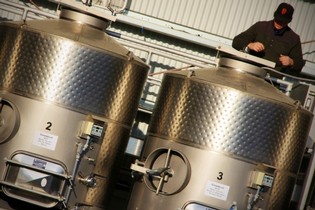 Who's ready for the coolest, smartest, wine of the summer? Line up and get it while you can, friend. Like Burt Wonderstone, this stuff is gonna disappear...
Named for Michael's mother, this "Chiara Bianco" from Chiarello Vineyards promises to be our best white wine ever made. Tune into any wine aficionados and they are all waxing poetic about 2012 as "California's vintage of the century." On top of that, from a wine grape standpoint, the coolest kids in school right now are the varietals Ribolla Gialla and Tocai Friulano. Guess what? This Chiara Bianco is a trifecta: a 2012 vintage comprising two-thirds Ribolla and one-third Tocai.
Ribolla Gialla and also Tocai Friulano (same grape as Sauvignonasse or Sauvignon Vert) hail from the most northeastern wine region in Italy, known as Friuli, where most all rock-star Italian white wines are born. Friuli is mostly serious, independent, mom-and-pop winegrowing, not unlike Napa Valley.
Chef Michael always champions "versatility" as an attribute of a great wine. It's no secret that Chef loves the Giana Zinfandel because it pairs so famously with myriad dishes in all seasons. With versatility in mind, Michael brought into being our Chiara Bianco. It works wonderfully well as a "winter-white" that stands up to hearty dishes by fireplace hearths. Conversely, it makes for "the perfect patio pounder" for summertime cookouts, as assistant winemaker John Giannini attests (love it!).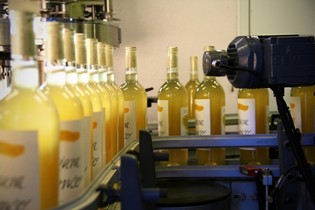 The first cool thing (and WOW factor) you'll discover about the Chiara Bianco is its natural "haze" – old-world in style, more translucent than transparent, with suspended particulates in the wine. We utilized a RED wine vinification process to make our WHITE Chiara Bianco. With reds, you leave the wine in contact with all the grape matter, lees, and oak, so as to add scope and scale to a wine. In short, we've left all the good stuff in the wine, versus modern filtration and fining designed to remove micro-elements – harsh processes that potentially rob a wine of its natural essence and personality.
To add character, structure, dimension, weight, mouth-feel, and a little "versatility" to the 2012 Chiara Bianco, we de-stemmed, cold-soaked, pressed-out, punched-down and fermented about 15% of this wine in contact with the grape skins for a period of 18 days, much as one might with red wine production. Fatty acids, proteins, delicate tannins, pigments, and flavor compounds (phenolics) are thus transferred from the grape skins and pulp into the wine. A majority of the wine was aged in neutral French oak for several months, sans filtration or fining along the way. We want our Italian-varietal Chiara Bianco wine to mirror the food-flexibility of say a barrel-aged Semillon or Chardonnay, while also remaining true to its original Friulano wine heritage.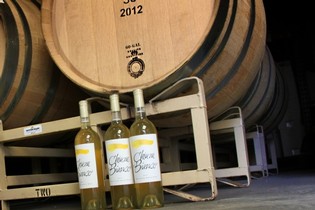 This 2012 Chiara Bianco reminisces of white peach, pear, honeydew, plantains, papaya, kiwi fruit, allspice, and subtle floral notes on its nose and palate. Wonderfully balanced acidity and alcohol work in tandem to refresh and restore the palate for the next course or next conversation.
Score some of this seductive, liquid gold for yourself and your friends, and enjoy it over 2013 and 2014, as it continues gains in complexity. A wine for all food, all people, all occasions, and all seasons – a wine like no other, brother!
Ciao Y'all!
- Brandon
Brandon St.Martin CWP CS | Winery Sommelier