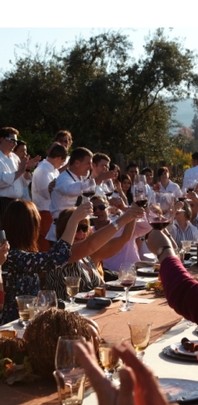 Harvest Party 2014
Harvest Party 2014
Enjoy a beautiful afternoon in the vineyards at the Chiarello family estate and dine alfresco at a stunning 100-foot long table set among the vines. Limited to 100 guests, don't miss this unforgettable Napa Valley feast, during which you will experience our delicious Chiarello wines paired perfectly with each course.
Simpatico Members in good standing may purchase up to 4 tickets at their preferred ticket price. Members in good standing have purchased a minimum of $2,000 in wine earlier this year or by September 1, 2014. To learn more about Club Simpatico, please click here: /tastings-events/club-simpatico

There are a just a few tickets remaining, do not wait to reserve your spot!