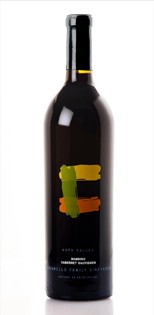 Wine Specs
Varietal
Cabernet Sauvignon
Vineyard Designation
Estate Single-Vineyard
Harvest Date
October 2011
Aging
16 Mos; 50% New French
Bambino 2011
CABERNET SAUVIGNON
Bambino | Cabernet Sauvignon | Napa Valley
Named for Eileen and Michael's son, Aidan, the Bambino is an estate single-vineyard Cabernet from Clones 337, 7, 191 and 221, produced to be enjoyed upon release.
Wine Profile
Tasting Notes
The Bambino is silky and layered with refined tannins and nuances of currants, cedar, cloves, and allspice. It developed into a fruit forward force despite the long cool season. As always, this St. Helena vineyard delivers a blend of spice and a natural acidity in the finish. This wine continues to provide Cabernet Sauvignon fans with a great-value, high-caliber wine that can be enjoyed alone or with the heartiest of meals.
Awards
Over years, Bambino Cabernet Sauvignon has received Parker scores of 91 points (2010 & 2009), 93 points (2008), 91 points (2004) and also a California Bronze Medal. Naturally, it has become a customer favorite.
Vineyard Notes
Michael Chiarello, Winegrower. Amigo Bob Cantisano, Organic Viticultural Consultant. Located in St. Helena, Chiarello Vineyards estate consists of 20 acres of pre-Prohibition era vineyards, mostly dry-farmed with organic and sustainable practices. The Bambino is a composition of several Cabernet vineyard blocks (Clones 337, 7, 191 and 221), on 101-14 rootstock in gravelly loam soils.
Production Notes
Thomas Rivers Brown, Winermaker. All CFV grapes are vinified, cellared and bottled at Outpost Winery on Howell Mountain, Napa Valley. Bambino Cabernet spends at least 16 months aging in 50% New French Oak barrels, from Taransaud, Darnajou, and Saury cooperages.