December 15, 2015 | Recipes | Allison Negron
Mulled Wine
Mulled Wine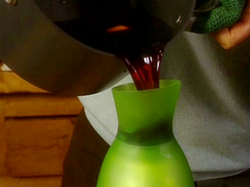 Ingredients:
2 cinnamon sticks
1 handful juniper berries
1 handful allspice berries
1 whole nutmeg
Magnum of zinfandel (or 2 standard bottles of zinfandel)
1 cup sugar in the raw
Peel from 1/2 an orange

Directions:
Combine cinnamon, juniper, allspice and nutmeg in a cheesecloth bag and drop in a saucepan with a quarter of the wine. Add the sugar and orange peel. Simmer to blend flavors, about 6 minutes. Add the remaining wine and return to a simmer. Remove spice bag and orange peel and serve. Makes six servings.
If transporting in a thermos, fill the thermos up with hot water to get it hot, about one minute, then fill with mulled wine.
To view a printable version of this recipe, click
here
.